If you are curious about doing your internship in The Netherlands, this might be a useful statistic to use. Being abroad can be expensive, that's why I wanted to share this statistic with you. Are you tired of working hard and get nothing in return? Here is your solution: internships in The Netherlands can be very attractive. The table down below shows in what kind of business areas you earn the highest pay check.
If you want to earn good money while doing your internship, you should study law. Three out of five of the most well-paid internships are at legal firms. The legal firms are known of paying the most amount of money each month. These firms are known for the best salaries in Holland:
Proctor & Gamble (8923 DKR)
DLA Piper (6300 DKR)
De Brauw Blackstone Westbroek (6300 DKR)
Houthoff Buruma (5950 DKR)
Henkel (5950 DKR)
Three out of five best paying companies are within legal. With an average of 6200 DKR each month, this business area is the best paying internships in Holland. If you're not a legal genius, the German multinational Henkel from brands like Fa shampoo and Schwarzkopf is a good alternative.
If your ambitions are at journalism or multimedia design, you shouldn't do your internship for the money. The worst paid areas are 'media and design'. In Holland, it isn't normal to pay for every internship. But you should keep this in mind.
These figures from below are nothing compared to the USA. Interested? Go to our next blog ''Internships in USA''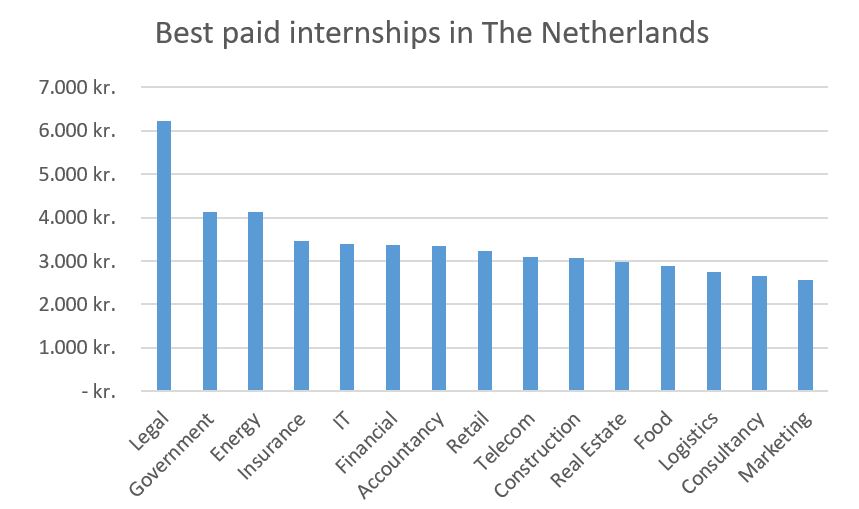 Source: NRC, Date: 0
Stefan, Get Cool